The eldest of a modest family of eleven children, Jeanne Lanvin was born in Paris on January 1, 1867. From an early age, her independence and strength of character foretold an extraordinary fate for little Jeanne.
At the age of thirteen, Jeanne earned her first wages working for a milliner on rue du Faubourg Saint-Honoré. Responsible for delivering hats all over Paris by omnibus, Jeanne preferred to follow behind the vehicle in order to save the cost of a ticket. Nicknamed the "Little Omnibus," she had already gotten herself noticed and quickly worked her way up the ladder.
A hard worker, Jeanne Lanvin began her milliner's apprenticeship a few years later and proved to be quite creative. The hats created by Mademoiselle Jeanne were met with great success, and Jeanne already dreamed of opening her own shop.
The dream would soon become a reality for the then 22-year-old milliner. Through her many sacrifices and persistence, she managed to get "Lanvin (Mademoiselle Jeanne) Modes" hats worn by the most fashionable Parisians.
Portrait of Jeanne Lanvin, 1934 © Studio Harcourt / Patrimoine Lanvin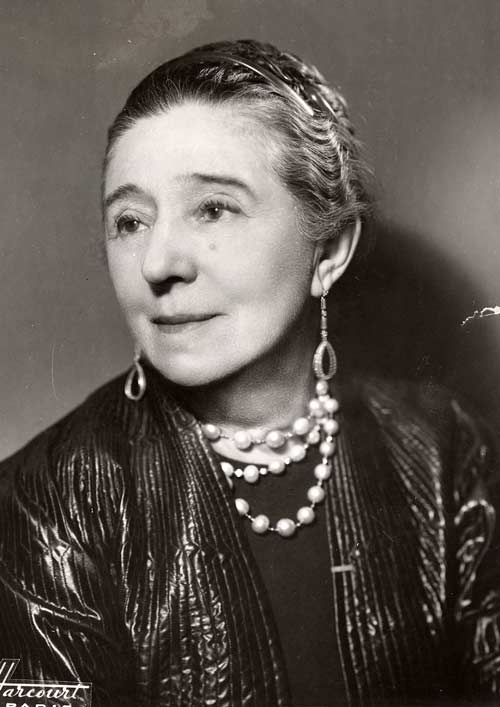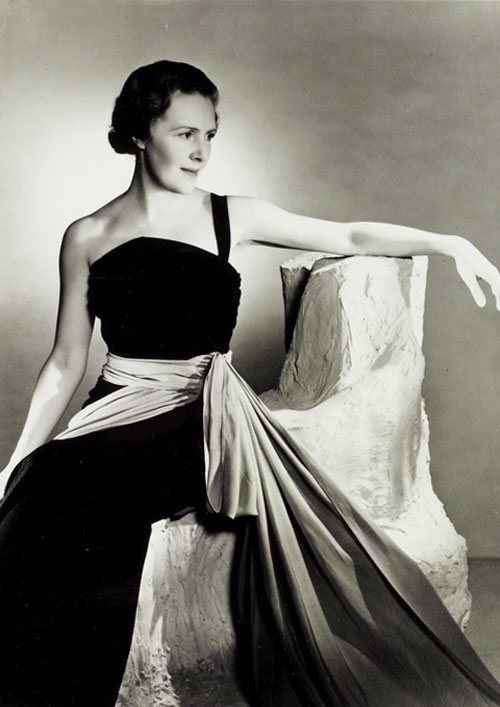 On 31 august 1897, Jeanne Lanvin gave birth to Marguerite: her only child, her greatest love, and her muse. From the close bonds of this relationship, one of the most famous french fashion houses was born.
Nothing was too beautiful for Marguerite. The little girl became the first source of inspiration for Jeanne Lanvin, who designed her an incredibly sophisticated wardrobe from a very early age. The mother and daughter never left each others' sides. It wasn't uncommon to catch sight of Marguerite meandering around the hat shelves in the store, and her elegance was well noted. A new opportunity then presented itself to Jeanne Lanvin, who decided to delve into children's clothing.
This extraordinary mother-daughter relationship is deeply connected to the brand's history. It was out of love for Marguerite that Jeanne Lanvin began designing dresses. Jeanne launched the legendary perfume Arpège in 1927 for her daughter-known by that time as Marie-Blanche de Polignac-as a birthday present. It was even through this bond of maternal love that the brand's emblem was born: "The woman and the child."
Marie-Blanche de Polignac, circa 1930 © Roger Schall/ Patrimoine Lanvin
A true visionary, Jeanne Lanvin was able to seize the spirit of the times throughout her career in order to bring her fashion house to heights of elegance and modernity.
Jeanne Lanvin was a pioneer in many fields. It was important for her to forge ahead and never fall behind. A jack of all trades, the designer developed the brand's business by regularly opening new departments in order to meet the needs of an evolving society.
Hats, children's clothing, young ladies' and women's collections, furs, lingerie, wedding gowns, sports attire, men's collections, perfumes, and even decor: through her audacity, Jeanne Lanvin gradually built an empire and heralded a lifestyle revolution.
She was the first to launch a children's fashion line in 1908, the first to offer a made-to-measure men's collection in 1926, and even the first to create a mixed eau de toilette in 1933. At its peak, Lanvin had nearly 1,200 employees, many stores, and several branches throughout the world, all thanks to the vision of an exceptional woman.
Modèle Sport, Hiver 1928. Gouache Drawing © Patrimoine Lanvin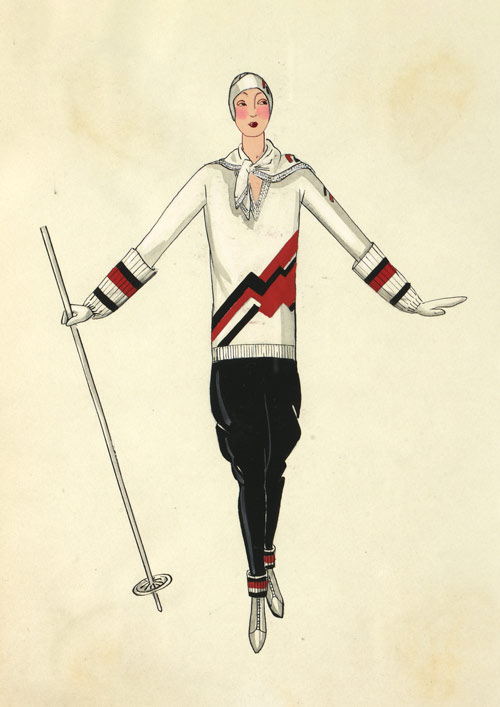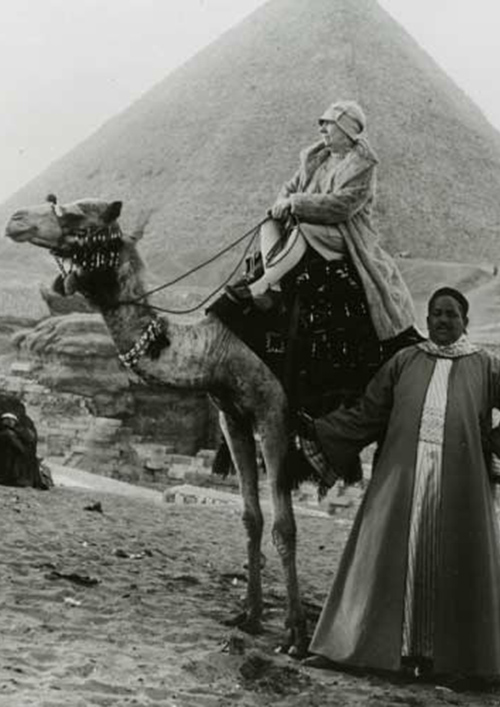 TRAVELS
Lanvin's success was all thanks to the curiosity, inventiveness, and creative energy of Jeanne Lanvin. with each new collection, the designer sought to reinvent herself and drew inspiration from traveling, the artists of her time, and everything around her.
When she wasn't working on her next collection, Jeanne Lanvin would frequently travel, taking the time to log everything she saw and everything that inspired her. Her travel journals were never far from her when she was working, carefully stored away in her office's bookcase.
In addition to her memories, Jeanne Lanvin would write about objects she had found, fabric samples, or the traditional clothing of the countries she or her close friends and family would visit: Indian saris, Chinese attire, toreador outfits, or ethnic embroideries and material.
Egypt, circa 1930 - © DR / Patrimoine Lanvin.
Although she mostly kept to herself, her artistic sensibility and creative spirit opened the doors very early on to the most avant-garde artistic circles of her time. Jeanne Lanvin would diligently socialize with the painters of the Nabis movement, in particular Édouard Vuillard, with whom she shared an obsession with color.
She collected works by Renoir, Degas, Fantin-Latour, Fragonard, and many others, and she was highly influenced by the impressionists' use of light and the symbolic works of Odilon Redon. These artistic affinities could often be seen in the brand's collections. For Jeanne Lanvin, they translated into a passion for color, which would push her to open her own dye factory in 1923.
Jeanne Lanvin at a fitting with Yvonne Printemps, circa 1936 - © DR / Patrimoine Lanvin.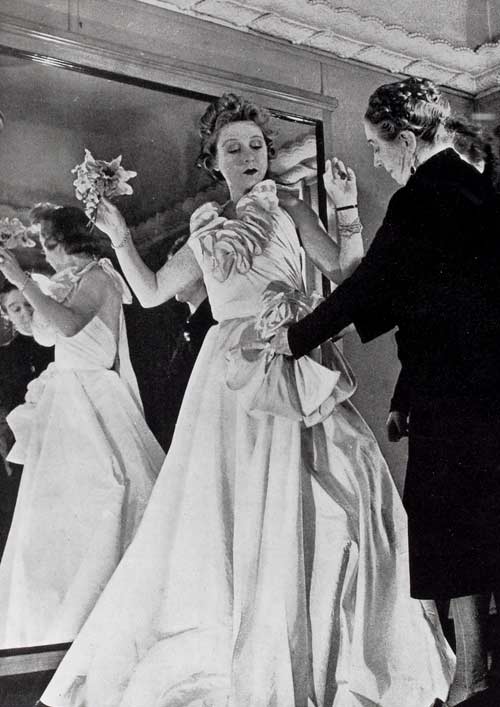 Jeanne Lanvin had many inspirations, but elegance, femininity, and modernity were the designer's key words.
In the 1920s, Lanvin stood out for its use of bold colors combined with innovative decorative techniques. Ribbons, embroideries, pearls, and precious details adorned dresses without ever compromising the ateliers' cutting work and exceptional construction.
The use of black and white was frequently incorporated with the brand's iconic colors, such as Lanvin blue. This combination, sometimes interspersed with touches of silver, represented the peak of chic in the mid-1920s. It was the result of geometric research inspired by the Art Deco movement at the height of its influence.
Embroideries and beading created in the Lanvin ateliers between 1925 and 1935 - © Patrimoine Lanvin.
The success of Jeanne Lanvin's fashion house could only be owed to herself and her long years of persistent work. Reserved and meticulous, her personality did not fit in with those of her contemporaries.
"Madame," as her staff called her, was a demanding boss who, nevertheless, put great trust in the talented individuals surrounding her. Jeanne Lanvin was self-taught and did not draw. She worked a lot with the materials and exchanged her ideas directly with her head seamstresses, who were responsible for creating the models.
Distant from social events, the designer evolved within restricted and intimate circles of artists, writers, and musicians. It was very rare to see her at a ball or at Longchamp races, and if by chance you ran into her there, it was because she came to observe the elegant Parisians in order to better anticipate their future demands.
On July 6, 1946, Jeanne Lanvin passed away peacefully at the age of 79. Jeanne—the milliner, the designer, the decorator, the perfume manufacturer, "Madame" as her staff called her—left behind an empire in her wake.
Jeanne Lanvin and a mannequin, 1935 - © New York Times/Rea