22 Rue du Faubourg Saint-Honoré
---
22 RUE DU FAUBOURG SAINT HONORÉ
---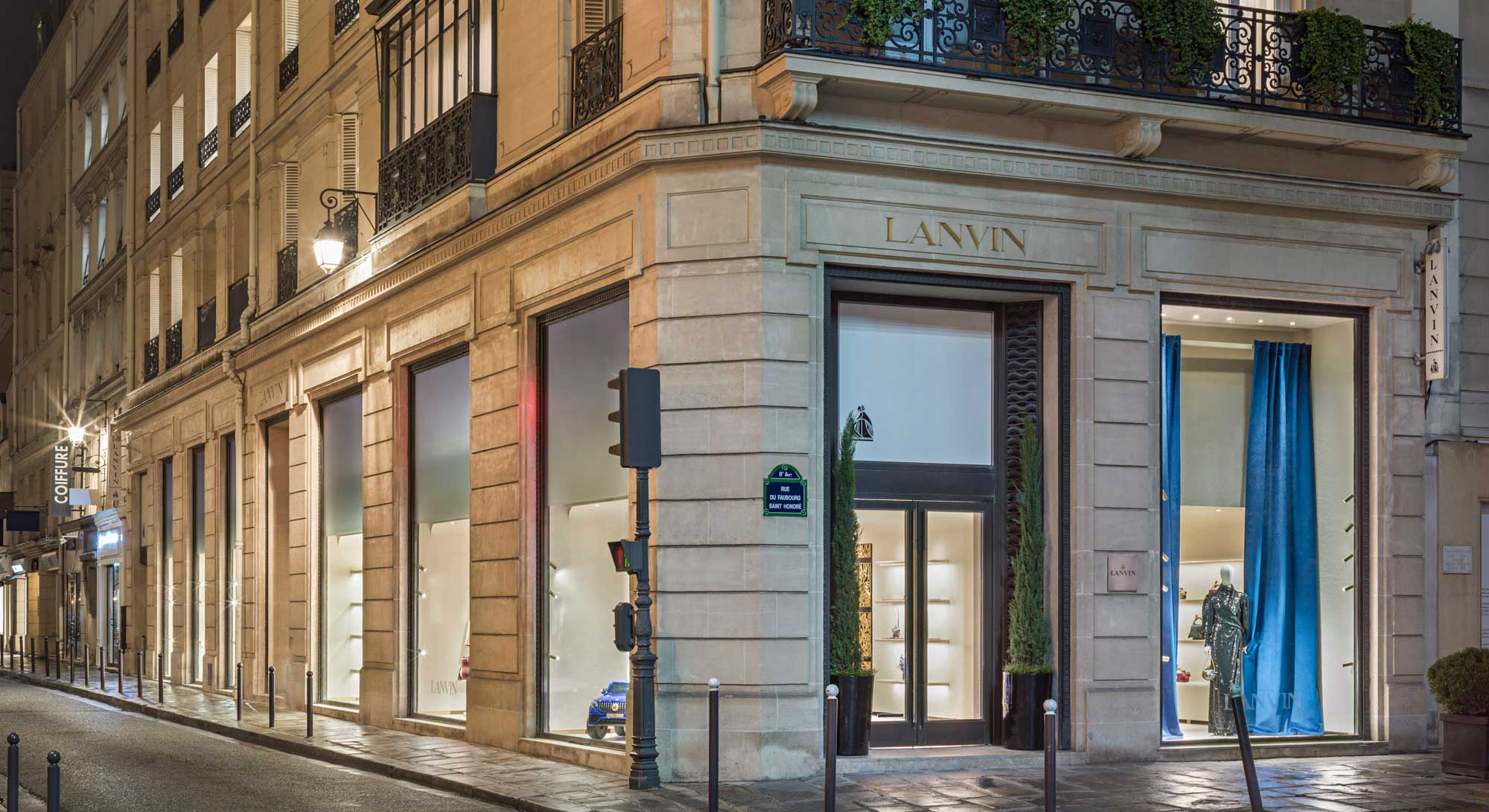 ---
LANVIN's historical store located at the corner of 16 rue Boissy d'Anglas and 22 rue du Faubourg Saint-Honoré since 1889, very recently opened its doors again in September 2021 following several months of refurbishment work.

An extension of the dialog between the past and the present – the contrast between the modernity introduced by the Artistic Direction of the house and the heritage of Jeanne Lanvin, the store has been renovated according to the "laconic chic" inspiration of the Belgian decorator Axel Vervoordt, in a traditional Japanese wabi spirit, which could briefly be described as essential simplicity, a return to nature, the use of rare materials such as Marmorino monochrome on the walls, ceilings and stairs and mineral Burgundy stone on the floor.
---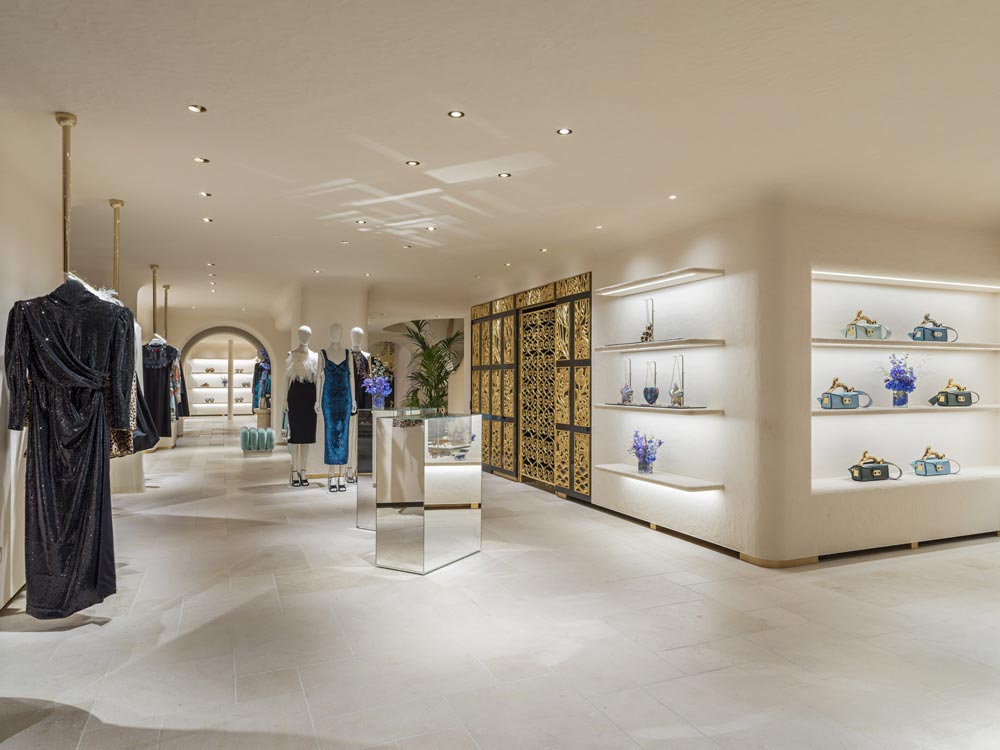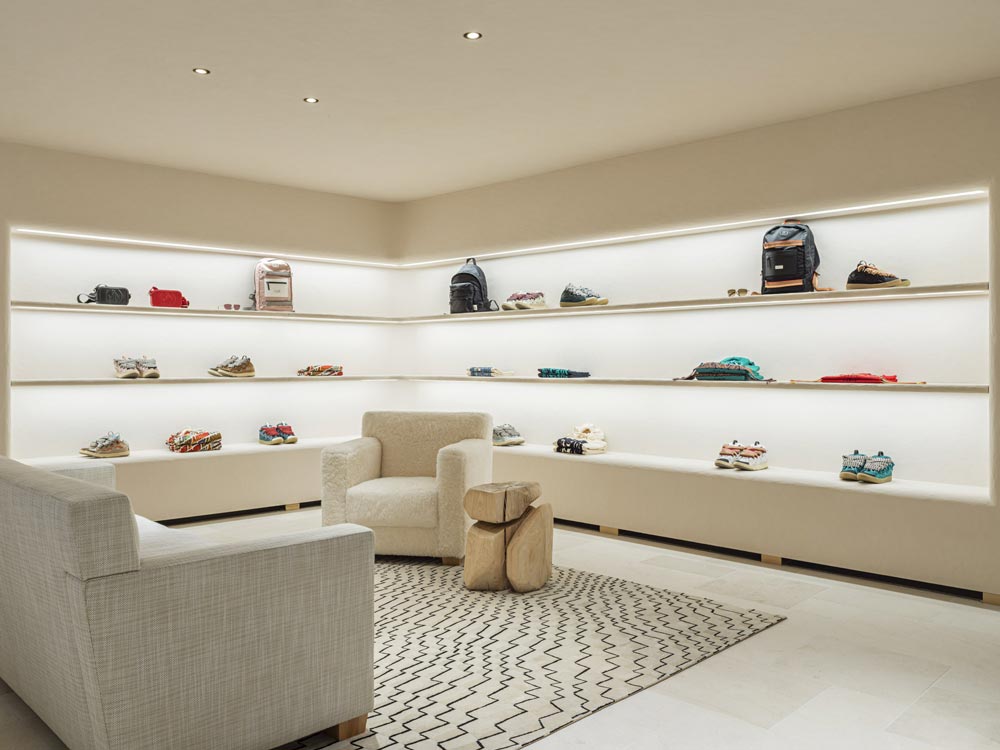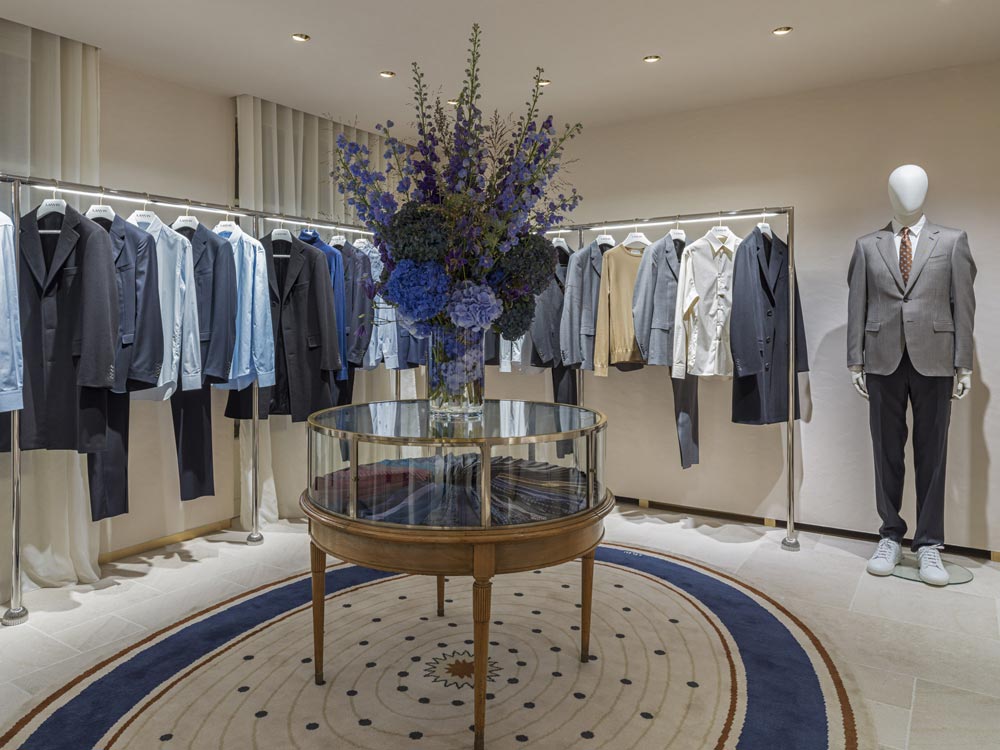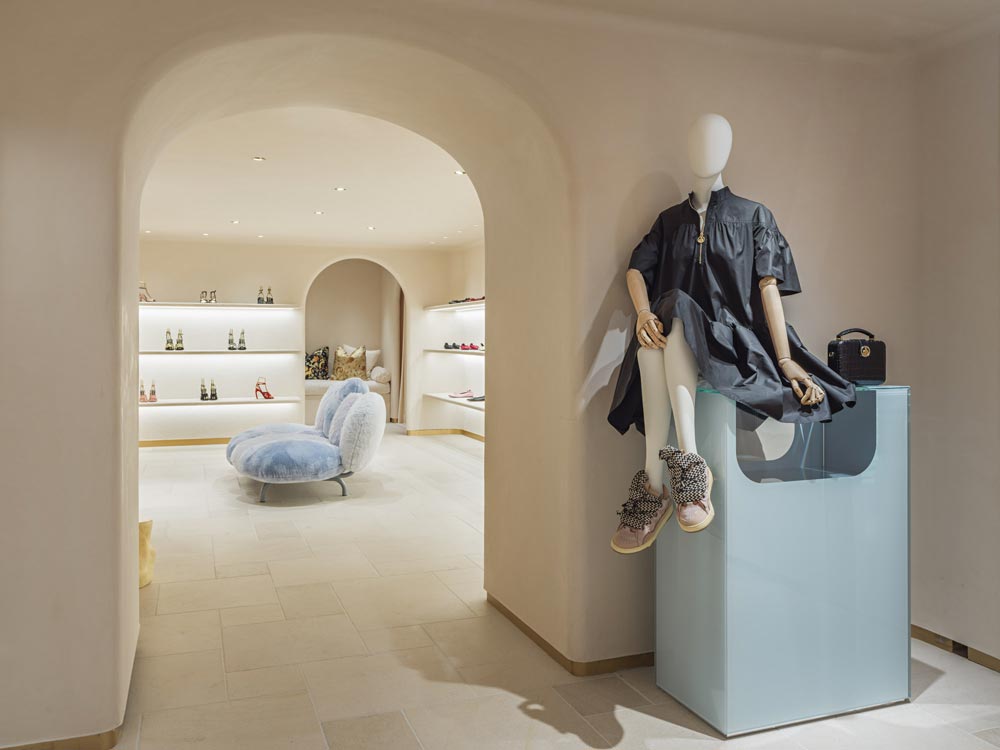 ---
Composed of rounded lines, full of arches and swirls dear to Jeanne Lanvin, the store recalls the elements: water – earth – air. The white of the ceilings and the rounded edges of the walls provide the balance to the profusion of shapes. Several features have been preserved untouched such as the Printz triptych mirror (which has been in Jeanne Lanvin's office since 1930), the stylized daisy used for coat pegs, the bases of the racks and the original stone floors.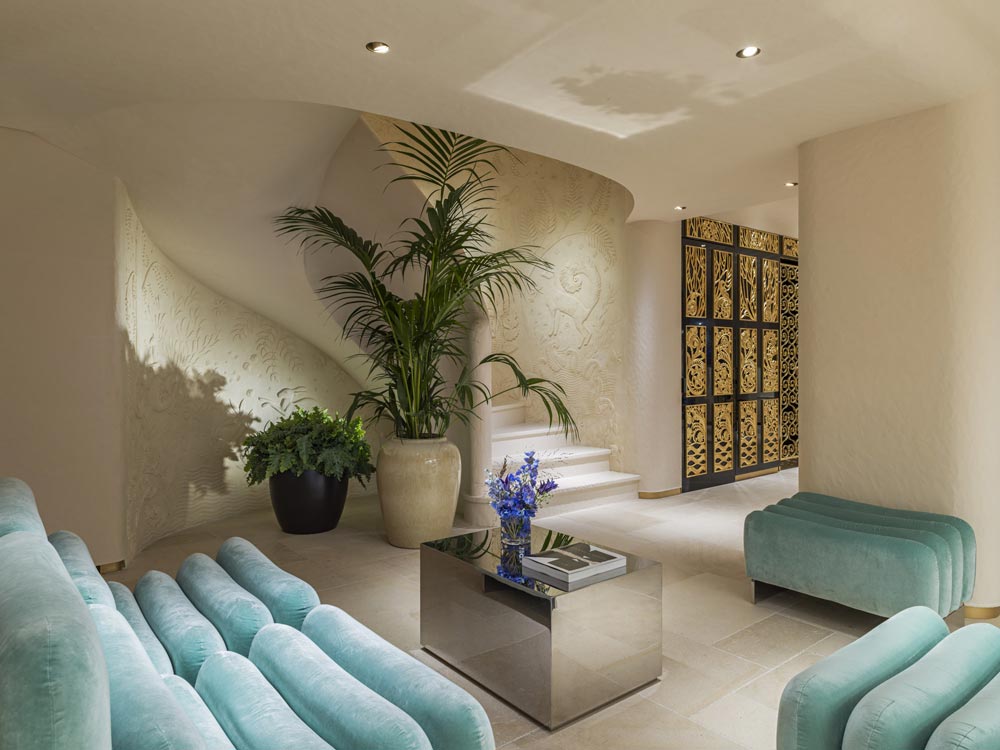 ---
The elevator has been refurbished, nearly identically to the original, in black lacquer with carved wooden panels on the sides re-gilded with gold leaf, similar to the originals and the golden swirls of the grid reproduced identically according to an original design by Armand Albert Rateau.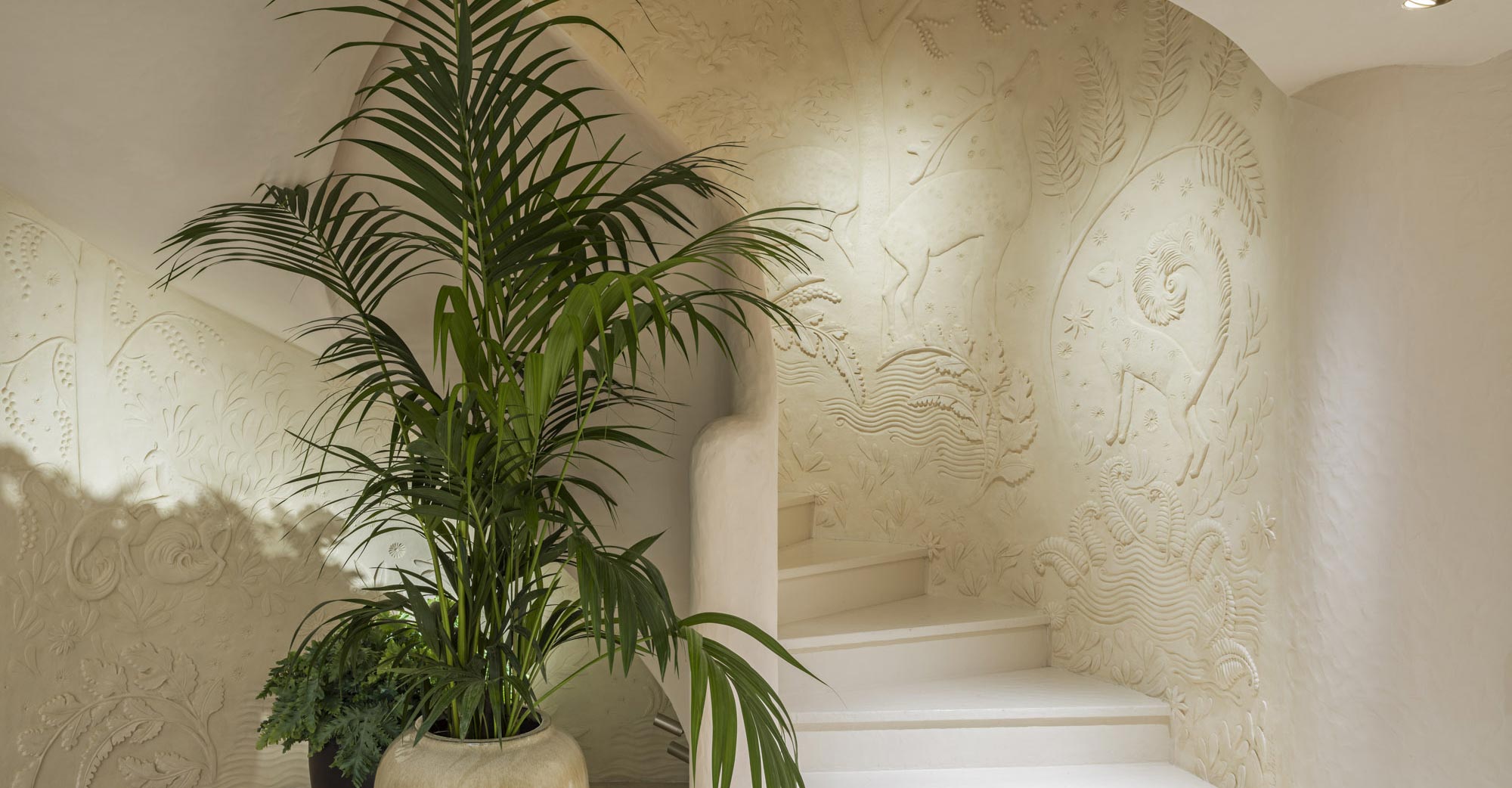 Decorated by a carved fresco inspired by Jeanne Lanvin's bathroom designed by Armand Albert Rateau, it depicts a luxuriant and imaginary fauna and flora. Birds are a constant feature at Jeanne Lanvin and the daisy prints are another element of the graphical identity of Lanvin linked to her daughter Marguerite whose name means daisy.
---
This curvilinear room is inspired by the bathroom of the Duchess of Alba – Liria Palace in Madrid, with a graphic black and white floor representative of Lanvin Decoration and screens depicting the same luxuriant flora and a similar bestiary. A sole element is unique: the Dachshund.